Big Christmas gatherings risk big Christmas food waste but FareShare chef Dion Kemsley is in a unique position to offer solutions.
"I've been a chef all my life," says Dion, who was employed at Caulfield Racecourse before his work dried up in Melbourne's lockdown. "I was told people have got to eat, so you'll be fine!"
Normally open around the year, catering at Caulfield shut down. "You've just got to make the best of it. I'm not the only one in this boat," said Dion.
Once preparing high end canapes and five course meals paired with matching wines, Dion is now cooking nutritious meals at FareShare using rescued food rather than premium ingredients. His position is funded by Working for Victoria.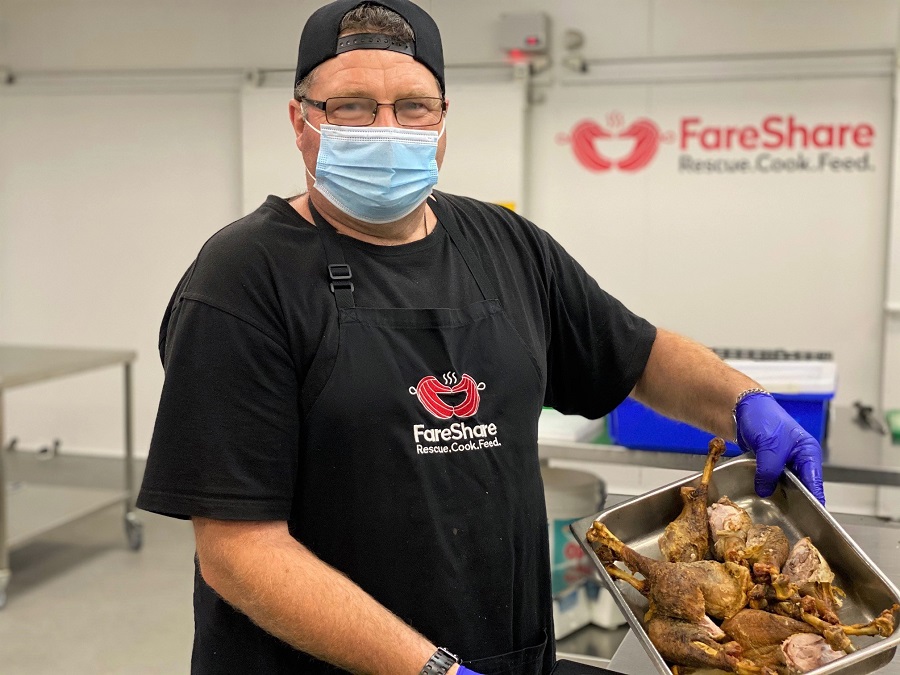 "It's a different challenge. You've still got to produce a nice dish at the end of the day," says Dion pictured above with turkey leftovers. "You have to draw on your inspiration. One day we might just have cauliflowers. It's been interesting to see how far you can go with vegetarian dishes and use what you have.
"At FareShare we're feeding everyone because of lockdown. People from the top end of the scale to the bottom end are now all in the same boat now. It gives you a deeper appreciation."
His FareShare role has given Dion a new perspective on food waste and making do. Quick and delicious, here are his turkey rillettes and Christmas cake terrine recipes to tackle any leftovers. Bon appetit.