Vulnerable visa workers from all over the world have gained work and the chance to give back in FareShare's Melbourne kitchen during COVID-19.
Thanks to Victorian Government support, we have offered meaningful employment to 80 skilled staff stood down from their normal roles including Columbian couple William and Lorena who say FareShare has "changed their lives".
Lorena Ramos first came to Australia for the Adventure Race World Championships representing her country in the multi-disciplinary, endurance event.
"I just came for the race but fell in love with the country," says Lorena from Bogota. She told partner William Barreto to start learning English and the former physical education teachers made their way here to start a new adventure.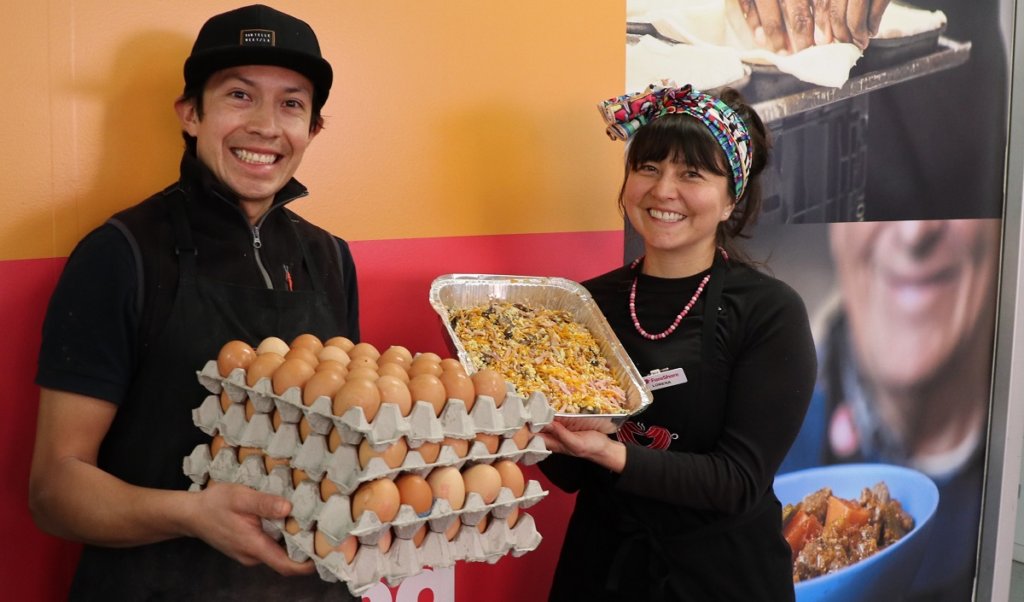 Both found work at Peruvian restaurant Pastuso in Melbourne's ACDC Lane before William moved on to carpentry. Along with many visa workers, they struggled when the pandemic hit and were grateful for Pastuto executive chef Alejandro Saravia's introduction to FareShare.
We feel really welcome here – the mission is rewarding our hearts. It's the most important work in the world. The energy in the kitchen is as good as the food. You can feel the love here.

Lorena
William, who has experience working with Indigenous people in Columbia's jails and hospitals, says he has already learnt a lot at FareShare.
"There are people from different countries with different histories to teach me different things," he says. "It improves you and it improves lives. We are really happy. We have a job, we are learning and making a beautiful history."
FareShare's Crickette DerJeu said Lorena started as a cleaner before joining William in the pastry kitchen. "We are so blessed to have beautiful people like Lorena and William whose values are so aligned with ours," she said. "Thanks to Working for Victoria, we are extending our wonderful FareShare family and it's a privilege to have them on board."