For an isolated, elderly person, a FareShare meal can mean much more than a full belly.
When David, a lonely pensioner, asked for a meal, he gained a new 'family' and the human connection that was missing in his life.
David never married and worked all his life on the minimum wage. When he retired, he found his aged pension was not enough to cover his rent and modest living expenses. It wasn't long before he was living in his car.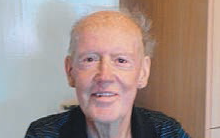 Luckily, David pictured left in 2018, found Rosedale Neighbourhood House in Gipplsand, Victoria, which serves FareShare meals.
Once he accepted his first free meal, David's life improved dramatically. He became a frequent visitor to the House. Volunteers there made sure he had food every day and a nutritious FareShare meal to heat up in winter. They even secured a caravan for him to live in.
Rosedale Manager Heather Shaw often sees vulnerable people struggling for food and company.
"They come here for a meal, but they develop friendships and this makes them feel like they matter," she said.
David told her he considered some of his new friends from Rosedale his 'family'.
Sadly, David was diagnosed with cancer. Once again, Rosedale was there for him, taking him to appointments and rallying around him with FareShare meals.
Four months after his diagnosis, David died with a new 'family' member at his side. His last words were 'you guys have truly been my friends'.
Heather says without FareShare meals, David's final months would have been miserable. More importantly, he would have faced them without his new family.
"The value of a meal shared is immeasurable and is so important to people like David who would have no one otherwise," says Heather.
As Heather says, what we cook in our kitchens is 'so much more than a meal'.
"The connectivity for the gentleman meant so much to him and to have his last words recognising the friendships he made because he came here to be fed, still brings a lump to my throat," she said.
If you would like to support people like David this winter with 'so much more' than a meal', please donate to our Winter Appeal.