Volunteer power trumps COVID as FareShare welcomes back our full unpaid community at the start of National Volunteer Week.
For the first time in 15 months, our regular, corporate and school volunteers will work hand in hand with chefs in FareShare's Melbourne kitchen.
They join FareShare's unpaid workforce in Queensland and the drivers, gardeners and warehouse volunteers who have powered on through most of the pandemic.
"Their resilience and commitment are a true testament to the power of volunteering," said Rosemary Kelly, manager volunteer programs. "Volunteers have always been the heart and soul of FareShare and the way they have rallied through these difficult times has been inspiring."
Each volunteer has a personal motivation for giving up their time. Anger that people still go hungry in Australia, concern about food waste and climate change, or a simple desire to make a difference, are just some of the reasons. Pay is not.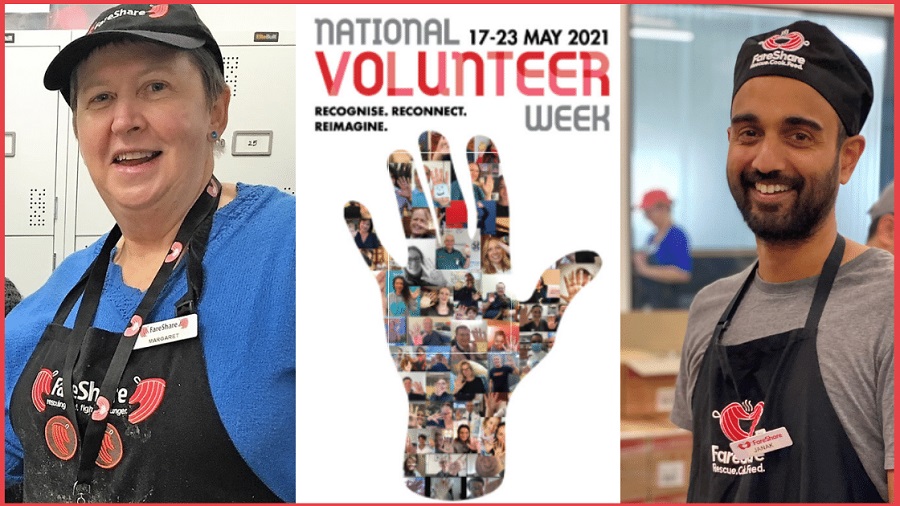 Marg Campion, pictured left above, has been volunteering with FareShare for 20 years. She said giving back to the community through FareShare was an 'honour'.
"It is a winning combination of helping the environment and creating meals for people who really need them," she said. "I am pleased to give a little of my time each week, knowing that I can help so many. It makes me happy."
Brisbane volunteer Janak Patel, (above right) is a relative newcomer having started volunteering in 2020.
"I joined FareShare to do something meaningful with my time off," he said. "I really liked the idea of working with food and helping create meals for people that need them while reducing food that would otherwise go to waste."
And his favourite thing about volunteering at FareShare? "The people – the great salary and flexible hours don't hurt either!" he joked.