When Emmanuel Meraveka lends a hand in our Brisbane kitchen, his employer converts his contribution into dollars.
"I loved volunteering with FareShare even before I found out that my employer, Mastercard, had a volunteer incentive program that would donate $500 to an approved charity for every 40 hours of time one of their employees volunteered," he said.
Now Emmanuel is determined to clock up 160 hours to earn a $2,000 donation for FareShare.
"I see the impactful and wonderful work that FareShare is doing in the community feeding the needy and the volunteers play a big part. But I realise financial donations also make a difference and help FareShare to achieve its goals.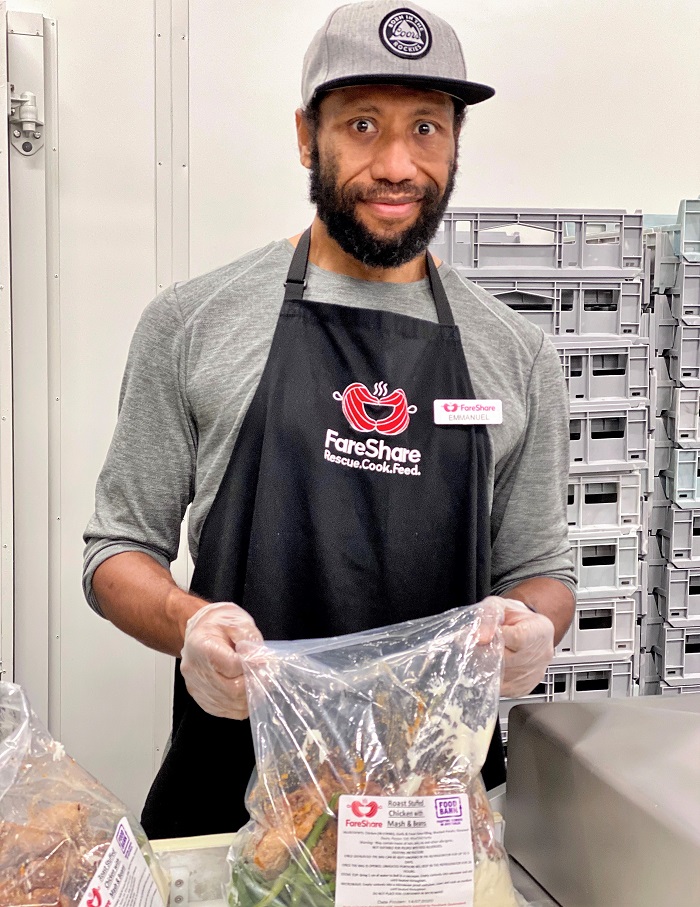 "Giving up a few hours of your time and working together with a determined team doing basic kitchen tasks can actually make a big difference in people's lives," said Emmanuel (pictured left). "I've learned a lot about minimising food wastage and I now understand that there are large segments of the community living in hunger and are under-nourished.
"We all need to do more to ensure that the basic human need of having a decent healthy meal is met."
Emmanuel says there are also positive benefits for volunteers giving up their time at FareShare.
"It's a great physical workout and helps me stay active. I also appreciate the interactions with the other volunteers from all walks of life and the wonderful FareShare staff."
Above all, Emmanuel heads home at the end of his shift knowing he's made a real social impact. "What I find most satisfying is being part of the whole process of prepping food, packing the individual meals and then boxing them up is knowing they are going to make someone's day when they are hungry and open up a box to find a nutritious cooked meal inside."
Big thanks Emmanuel for your commitment and to Mastercard for backing him.