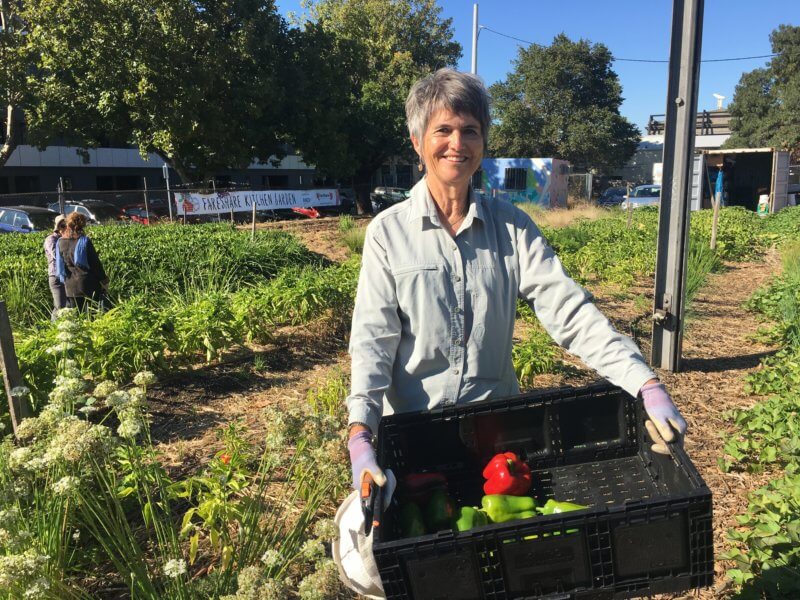 After a career spent working indoors as a librarian and editor, Marg Wanklyn decided it was time to head outdoors.
She now volunteers at our Abbotsford kitchen garden where she co-supervises the Wednesday morning shift. While Marg grows vegetables alongside Victoria Park station, husband and fellow FareShare volunteer Russell prepares them in our kitchen.
When Marg was photographed this week, it was a perfect autumn day. "Where else would you rather be?" she asks. "On a sunny day outside, with a good group of people – doing something really worthwhile."
But the weather isn't always kind to our volunteers. Marg notes that our gardeners are hardy folk who are happy to put their backs into the work whatever the weather. Today's tasks include harvesting capsicum and eggplants, and planting carrot, celery and leek seedlings.
Marg appreciates the team spirit shown by her colleagues and their compatible, cohesive, and self-directed approach. With a few volunteers also working in the kitchen, the crew fully understands the value of homegrown veg to our meals.
A home gardener and potterer, Marg has increased her knowledge immensely. At FareShare she has learned about composting, soil microbes, propagation techniques and crop rotation. All this has been applied to her own garden with excellent results.
Thanks to Marg, and all 180 of our garden volunteers, who helped us grow 38 tonnes of fresh vegetables last year at Abbotsford, Moorabbin Airport and on the Baguley family farm.