FareShare's Brisbane kitchen has just finished playing host to four Masters Students in Nutrition and Dietetics. The University of Queensland students worked to develop ways to assist FareShare measure the nutritional content of our meals.
Our unique operational model posed an added degree of difficulty and the students got on the tools in the kitchens and 'grilled' our chefs on their cooking and preparation processes to gain a clear picture of what FareShare does.
'It was an incredible opportunity to work with FareShare Brisbane. Throughout our studies we learn about the huge issue that is food waste in our food system but being able to experience the scale of it firsthand was eye-opening. Even as a dietetics student, it is overwhelming to see the sheer volume of food that is destined for landfill and the amazing job that FareShare does to turn these items into healthy and nutritious meals for those experiencing food insecurity.' – Jenna
The students also investigated how FareShare can best address culturally-appropriate foods and meet specific nutrition concerns for at-risk communities.
'Over my month working with FareShare, I have learnt so much. It was shocking to see the large amount of produce that would otherwise be wasted if FareShare didn't exist to take it in and turn it into meals for people in need. I was pleasantly surprised at how nutritious the meals already were. It has been interesting working with the team to come up with ways to further improve the nutrition for certain vulnerable populations (e.g. pregnant women), suggesting ways to help standardise meal portions, and developing a nutrition database. I am interested to see how the collaboration further develops with the next dietetics group.' – Hermieny
After a month spent with FareShare, students Jenna, Cherry, Patrick and Hermieny have completed the first stage of what is to be an ongoing study with UQ's assistance helping us with our mission to provide the most nutritious meals possible, with the ingredients at hand for those doing it tough.
Educational graphics were created for our kitchen staff and volunteers that highlighted portion sizing, population-specific nutrition targets e.g for pregnant women. These graphics will be a great resource for our chefs and volunteers.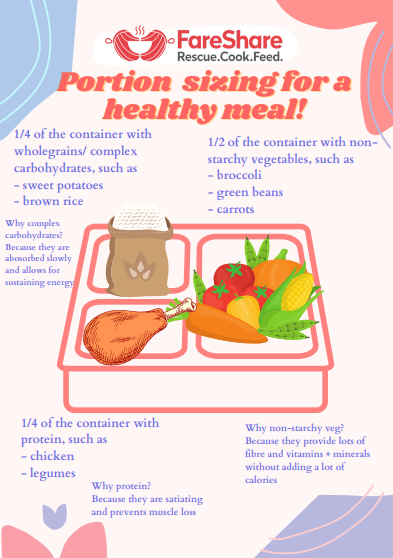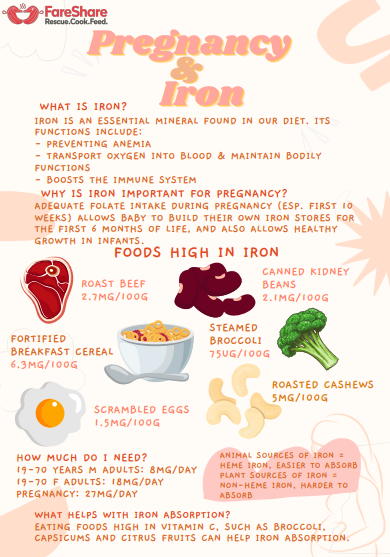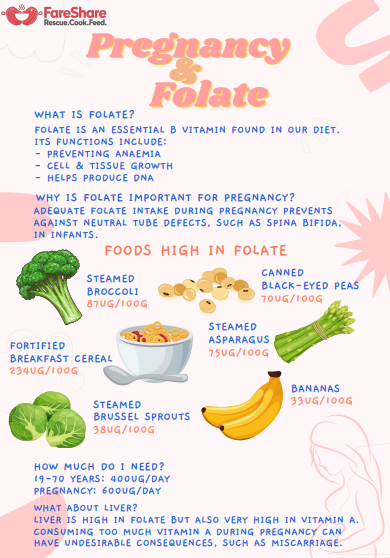 Following their experience, the students have left feeling inspired by the work done in the FareShare kitchen.
'Students have learnt that FareShare is doing an incredible job providing for the community, killing three birds with one stone by diverting food waste and turning them into delicious and nutritious meals free of cost, as well as providing volunteering opportunities. We feel extremely honoured to have been assisting FareShare in continuing to create healthy meals for vulnerable populations.' – Cherry
'Working with FareShare has been eye-opening to see how much food is wasted in our food system. By rescuing food that would otherwise be wasted FareShare provides important nutrition to people experiencing food insecurity in our community.' – Patrick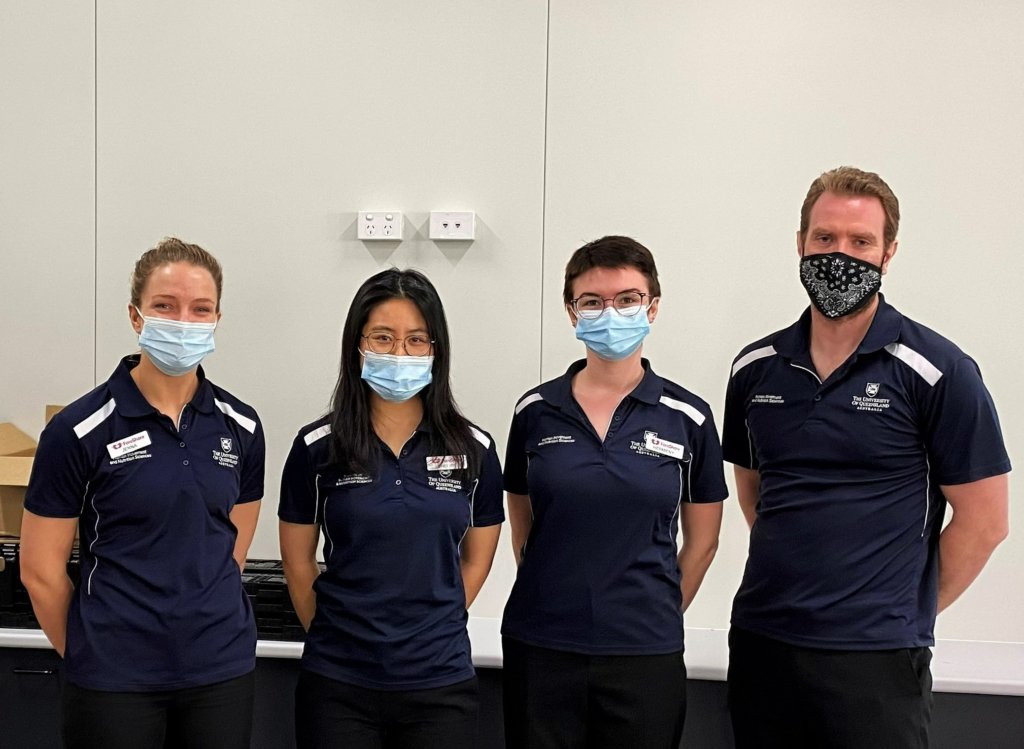 Thank you, Jenna, Cherry, Patrick, and Hermieny for your work and enthusiasm in completing this project.