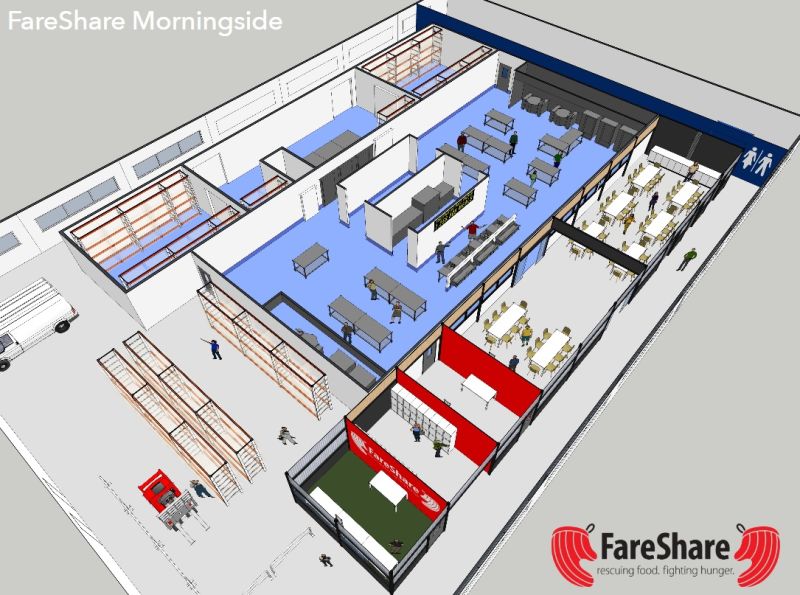 Our dream to take 17 years' experience of cooking rescued food in Victoria to Queensland is fast becoming a reality. Take a virtual walk through our new 1500 m² premises in Morningside, Brisbane where work is underway to convert a former serum laboratory into a high-volume kitchen.
Your journey starts at reception where all the activity in the adjacent warehouse to be supplied by Foodbank Qld will be in full view on your left. Follow the corridor past the volunteer lockers and into a huge multi-purpose space facing the kitchens. This area will be available for hire by businesses and for hosting food events.
Continue to the pièce de résistance – the kitchens! A prominent counter will demonstrate our social impact by displaying the number of meals cooked. Walk in past two rows of sinks, the first for hand washing and opposite our veggie cleaning facilities.
In contrast to our Abbotsford layout, the kitchen on the right will be operated by our regular volunteers with businesses assisting in the smaller kitchen to the left of your view. Once fully kitted out, the kitchens will boast some industrial-scale equipment to assist with food preparation and cooking on an enormous scale – we're aiming for 5 million meals a year by 2023.
The overhead view shows the shared freezers and cool room, laundry, toilets and storage space. It is envisaged that most of the building will comprise insulated, cool room panelling to help manage local climate conditions.
Welcome to FareShare Brisbane!