If you found yourself destitute with nothing but the clothes on your back, where would you go?
Salvation Army Project 614 offers a haven in Melbourne for the most disadvantaged people in our community. It was where Scotty went four years ago after his home and everything he had was destroyed in a fire.
Today thanks to the Salvos, he volunteers, has a roof over his head and is studying hospitality.
FareShare has been supporting the Salvos with cooked meals for six years. Each week FareShare chef Phil and our Melbourne volunteers cook ready-to-eat meals to feed 600 people.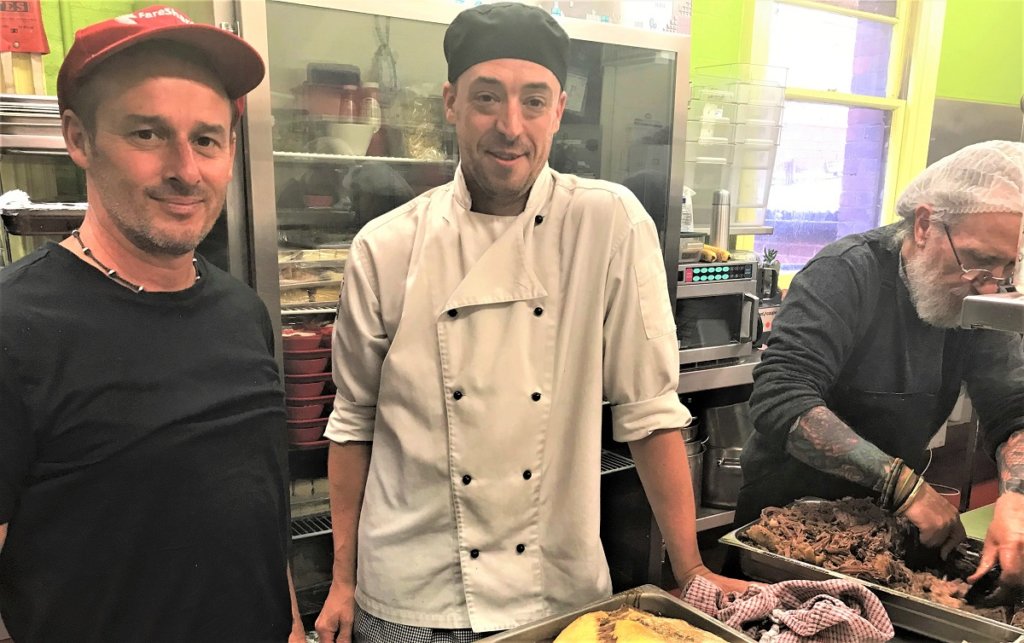 Chef Adam Thomson (above centre with Phil and Salvos kitchen volunteer Allen), runs the Melbourne Salvation Army kitchen on Bourke Street and says demand for free meals keeps going up.
"The number of people on the street has grown exponentially," he says. "Food is the magnet. People come in and then we can connect them with support services.
"They love the FareShare pastas. They really like the mild curries. They are big meat eaters!
"Some people come in when they're doing it tough and we can help get them back on their feet."
For others, many battling addiction and mental health issues, the road ahead is more challenging. "It can take people two years just to start talking," says Adam. "We provide a complete service – food, shelter, a talk with a case worker, alcohol and drug counselling, and help with housing."
Melbourne Project 614 is open 21 hours a day, only closing for cleaning. Its Lighthouse café serves free breakfast, lunch and dinner with table service. It also shares its space with rough sleepers after one of its patrons was fatally injured on the streets. Some nights more than 150 people make use of this safe space.
For Scotty, seeking out the Salvos in his hour of need was a great decision.
"You come in for food but you need friends as well," he says. Scotty found both. "The food is fantastic – no doubt about it. You do great meals." More importantly, he found a 'family' with the Salvos and ambitions for the future.
"I'm looking for a job. My goal is to get my own place," he says.