Our chefs and volunteers made it a true Red Letter Day in Brisbane by tackling pallets of tomatoes as the kitchen celebrated its second birthday.
Since opening in Morningside on 9 October in 2018, FareShare's second high-volume kitchen has cooked more than 2.7 million free, nutritious meals for vulnerable Queenslanders.
FareShare's head chef and production manager James Fien said the year had brought great challenges at a time of community uncertainty.
"We've had to adapt to the changes and not only keep cooking but double production at times," he said.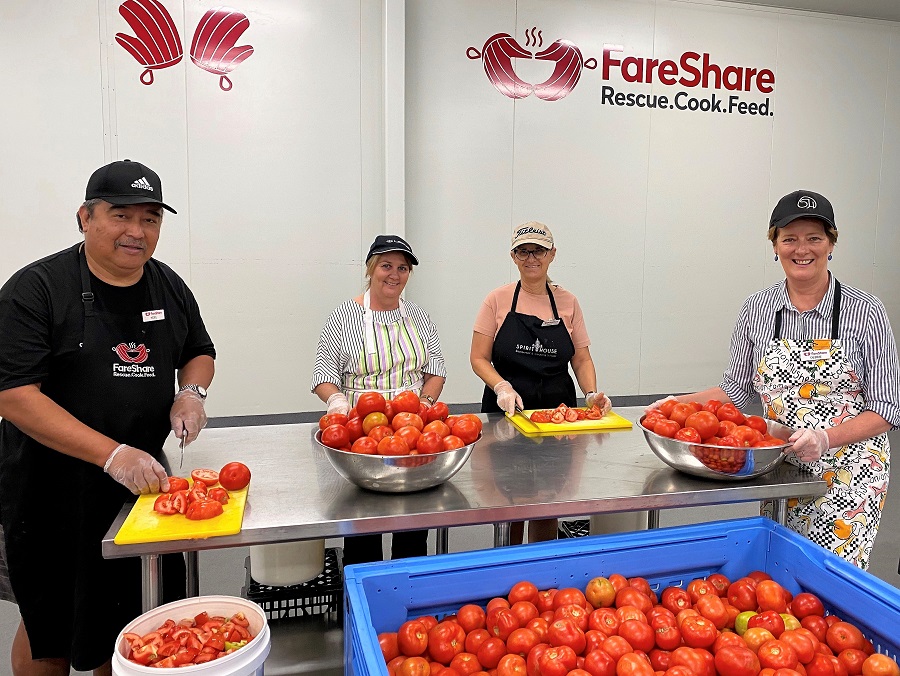 "Our 558 local volunteers are now busier than ever with early morning packing shifts and evening shifts as well as our daytime kitchen roster. Without their time, energy and commitment, we could never achieve FareShare's vision."
FareShare meals have nourished growing numbers of Queenslanders seeking food relief from people sleeping rough in the city to international students stranded without work or support. The kitchen has also cooked thousands of meals for Indigenous communities struggling to access nutritious food and regional communities devastated by bushfire.
"While we celebrate this milestone, we know there is a lot of hard work left to ensure everyone has access to a nutritious meal when they need one," said James Fien.
The passionate chefs kept cooking this year even when COVID restrictions meant suspending volunteers in March. Fortunately, a team of chefs from ALH Group stepped in for 10 weeks with funding from Woolworths.