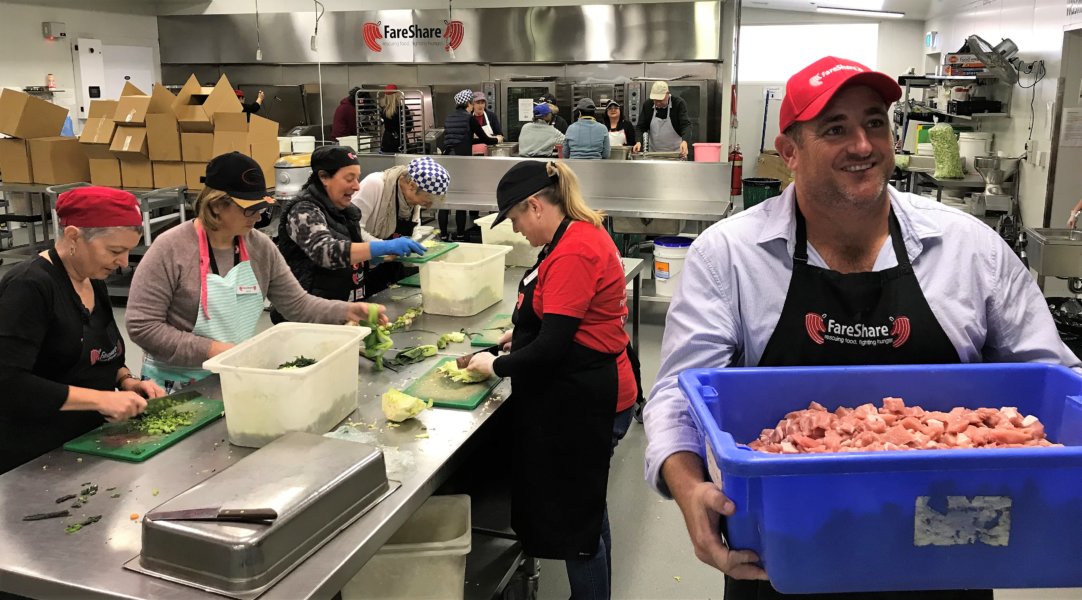 Meat is often the first sacrifice for families struggling to put food on the table making it a critical ingredient for the FareShare kitchen.
FareShare cooks 5,000 meals every day from rescued food for people doing it tough. Sourcing sufficient quantities of quality meat is one of the kitchen's greatest challenges.
Now, thanks to generous Victorian pig farmers, FareShare is guaranteed five pigs a week to add protein to our meals until Christmas. The weekly 250 kg pork donations will be enough to cook 2000 free, nutritious meals for vulnerable people.
"Meat casseroles are the first choice of meal for struggling families," said FareShare head chef Chris Mitchison. "The donated pork will improve the quality of our meals and boost the protein content for people who really need it.
"Our daily menu will now include dishes like pork, fennel and apple casserole, and Chinese barbecued pork stir fry."
Victorian pig farmer Tim Kingma, who is also the Victorian Farmers Federation Pig Group President, said farmers were pleased to support people in need with surplus pork.
"It's a privilege that farmers like me can make a real difference to the lives of people who can't afford nutritious food this winter," said Mr Kingma. "Knowing that our quality product will be cooked into delicious meals to be given away free to those most in need is a great outcome."