Indigenous communities face huge challenges from COVID-19 and FareShare's Brisbane kitchen is proud to have delivered 3,500 meals to families in Queensland with more support in the pipeline.
Cherbourg is an aboriginal community three hours from Brisbane with a population of 1,400. With around five people living in each house, this small community is particularly vulnerable to the spread of the virus.
To protect its population, Cherbourg has closed its borders to outside visitors but the meal delivery team (FareShare's Madison Buik & Jason Mollenhauer from SecondBite) was granted special access after clearing temperature and health checks.
Mayor Elvie (pictured below left with Cherbourg resident Marg) and other council members delivered the meals to around 375 homes, ensuring everyone received their share. She reported the kids were very excited by the meals – especially chef James' roast chicken.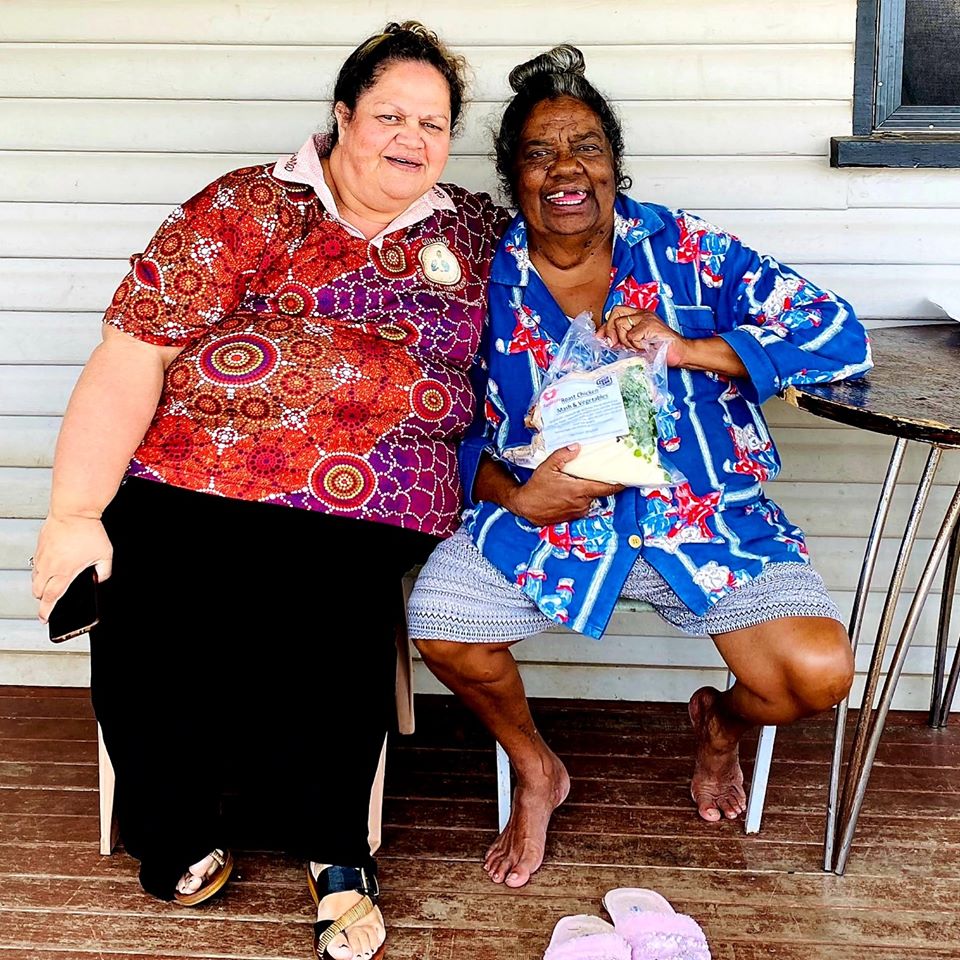 Chatur Zala (CEO of Cherbourg Aboriginal Shire Council) said, "We are so thankful for the wonderful work FareShare does and we would be so grateful for any extra meals over the next coming months."
FareShare has also been working with Goondir Health Services, an Indigenous agency with clinics and services throughout rural Queensland.
Some 1750 FareShare meals including chicken, corn & potato soup, chicken drumsticks, and taco beef stew were delivered to Goondir in Dalby with more deliveries planned in the coming weeks.
The meal support to Indigenous communities was facilitated by fantastic collaboration. As well as our new Indigenous partners welcoming FareShare into their communities, SecondBite played a key role in instigating the community food relief program.
Woolworths and Foodbank provided our Brisbane kitchen with nutritious ingredients to cook with and Eat Up loaned us the wheels – a freezer van that covered nearly 1,000 kms.
Madison, who has been leading FareShare's engagement with Indigenous communities, said, "It's been a very humbling experience knowing we can help these communities by providing a nutritious meal during this difficult time. I am so grateful for the warm welcome we've received and look forward to growing FareShare's relationship with Indigenous communities."