This year's devastating bushfires may be contained but the long road to recovery is only just beginning.
When fires came within 10 minutes of the Victorian town of Bairnsdale, FareShare's nutritious meals were on hand to serve fire-affected people at the Neighbourhood House. And last week Melbourne kitchen manager Crickette DerJeu took the first meals out to East Gippsland to support the fire recovery effort.
The FareShare food rescue van's first stop was Bairnsdale Neighbourhood House where FareShare casseroles and savoury pastries are given out to community members doing it tough.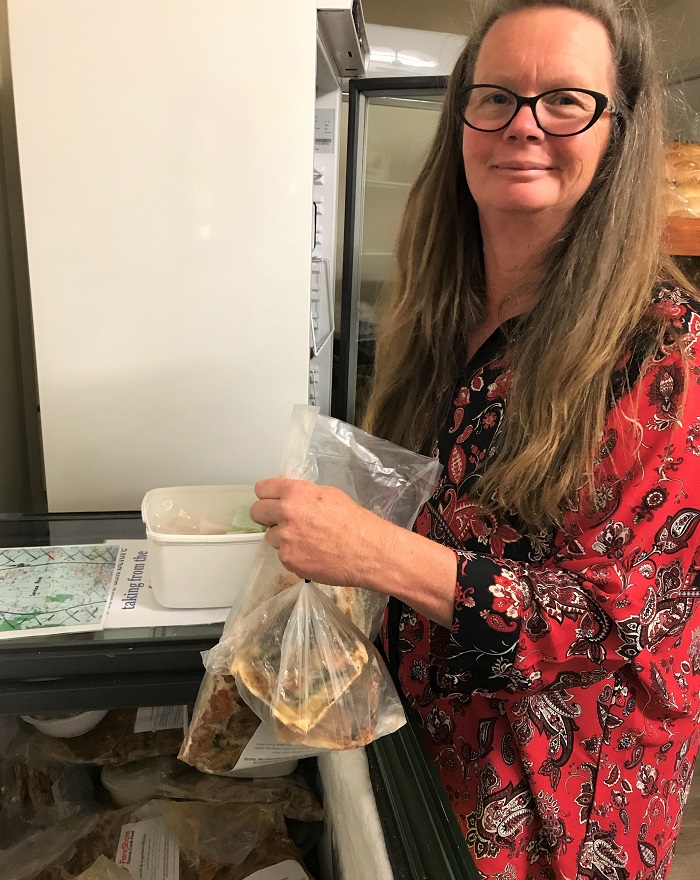 "In the initial fire response, community demand for meals was high," says CEO Leanne Jennings. "Now demand is to support BlazeAid and volunteers helping with recovery.
"They love the beef and chicken casseroles," she says. "Pastries go down pretty well. The vegie sausage rolls are bloody beautiful!"
Now Leanne, pictured right, aims to install a 970 litre freezer specifically to store FareShare meals.
BlazeAid, a volunteer-powered charity like FareShare, has been establishing camps around Victoria's fire ravaged communities to help farmers replace burnt fencing. This is the third year in a row that FareShare has supported BlazeAid camps with meals.
The roads into the tiny towns of Ensay and Cann River are grim with trees burnt on both sides for around 100 kms. While the grass is green and shoots have appeared on many of the trees, the fires have taken a heavy toll on farmers already grappling with prolonged drought.
A BlazeAid camp has recently been established at an abandoned school outside the town of Cann River.  FareShare meat and vegetable casseroles, and savoury pastries now completely fill the freezer brought in for the purpose.
After the long road trip down, the FareShare team camped with the BlazeAid crew and lent a hand on farmer Meryl Reed's property the next morning.
A former nurse, Meryl stayed to defend her house when fires swept through. Fortunately, the buildings and cattle survived but there was extensive damage to fencing.
"Can you imagine how long it would take us to do this?" she asked as Crickette and the BlazeAid crew strip burnt wire off posts. "It's amazing that people care and come out to help. It's overwhelming."
At Ensay, a small town between Bairnsdale and Omeo, BlazeAid has set up camp at the recreation ground. FareShare drops off a range of meals to feed hungry volunteers and local farmers.
Volunteer camp coordinator Loretta Sullivan said local people were reluctant to ask for help. "Farmers always think there is someone else worse off. They don't complain, they just get on with it. We have enough volunteers and as long as farmers need help, we'll keep the camp going.
"FareShare's made a huge contribution. It's fantastic. We'll take some meals out to the farming families too."
After the drop off, Loretta reported everyone had enjoyed the "delicious meals" which had been shared with the community.
Back in Melbourne, Crickette said it was helpful to understand how FareShare meals were making a difference.
"It was fantastic to see our meals being received by the community firsthand. Nutritious, ready-to-serve meals are particularly valued at this difficult time.
"It's also great to be able to relay what's happening to our volunteers who prepare the meals."