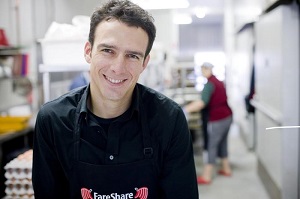 Our CEO Marcus Godinho recently notched up a significant number of his own – 10 years at the helm of FareShare. When he took up the role after three years' volunteering, we were known as One Umbrella, our kitchen was rented from the Hanover Crisis Centre and the office was his spare bedroom.
"I got involved because I hated the idea of all the resources that go into food being wasted," said Marcus, previously CEO of Environment Victoria. "It was through volunteering in the kitchen that I learnt about people in Australia going hungry."
When Marcus accepted the role, the menu was almost exclusively pastries and our top priority was to establish our own kitchen. "I will never forget long term supporter Annette Chaitman ringing me to say her mother, Ethel Goldin, would like to make a significant donation.  I couldn't believe it.  A month later, the family decided to substantially increase its support and we started looking for a premises."
In May 2008, FareShare fired up the ovens in our first dedicated kitchen and by October Woolworths – our biggest food donor – came on board.  "Those days were hard yards.  I remember speaking to financial backers and food donors during the day, and supervising volunteers in the kitchen at night."
As we continued to grow, FareShare moved again into our current kitchen in May 2013 with the aim of cooking one million meals per year. Today, we cook around 100,000 meals a month.
"FareShare is a community of so many people, businesses and foundations," said Marcus.  "Leadership has never sat with one person.  Significant contributions have been made by many people.
"These days what energises me most is the commitment, creativity, generosity, connections and humility of our 900 plus regular volunteers, financial donors and business partners."