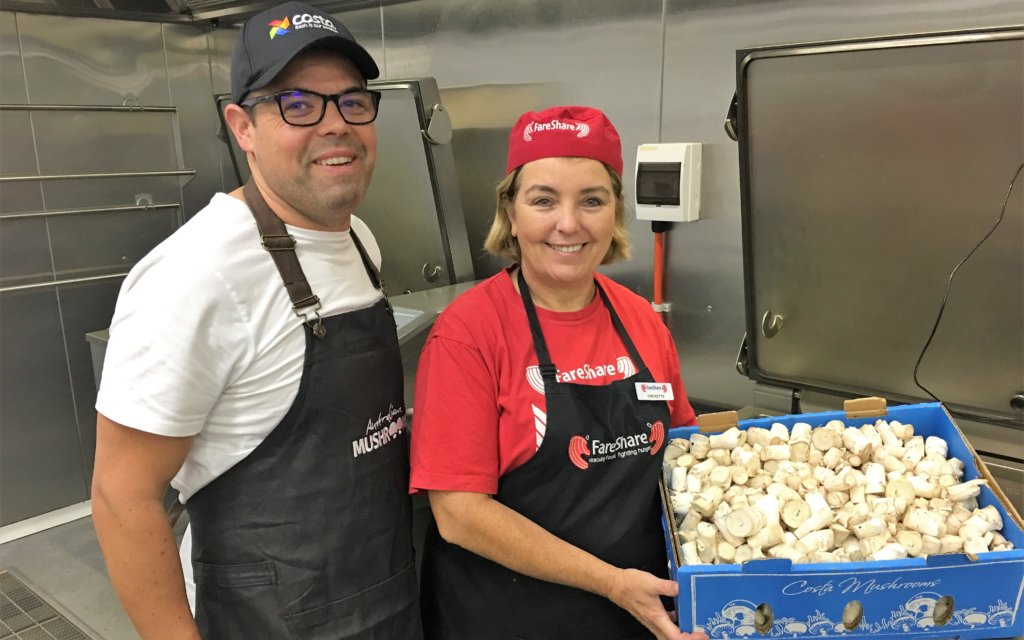 We have a wonderful new ingredient which is cropping up in almost every FareShare meal – mushrooms!
The welcome boon is due to an exciting collaboration with Costa, which boasts the largest mushroom farm in the Southern Hemisphere producing a staggering 250 tonnes of mushrooms every week in Melbourne.
Easy to prepare, versatile and very nutritious, mushrooms are loved by chefs and volunteers alike.
"Mushrooms are an amazing product we can use to boost kitchen production and nutrition in all our meals – even our sausage rolls!" says FareShare production manager Chris Mitchison. "They contain more than a dozen minerals and vitamins, are low in fat and calories, and cholesterol free."
In keeping with retailer specifications and customer preference, mushrooms are harvested by slicing the stem from the mushroom.  Until now these stems were largely discarded as part of the production process, even though they are just as nutritious and tasty as the actual mushroom.  This presented an ideal opportunity for Fareshare and Costa to come together to reduce food waste and help disadvantaged people access nutritious food.
"We were very happy to team up with Fareshare," says Jose Cambon, Costa Mushrooms Victorian State manager. "Not only is it an opportunity to work with a great charity, it also allows us to actually make our product available free of charge, enabling those less fortunate in the community to have access to healthy food that would otherwise go to waste."