Joan Datson joined FareShare as a kitchen volunteer in February 2012. She had recently reduced her work hours in hospitality and was looking to volunteer with a food rescue charity.
She found FareShare on Dr Google and it ticked all the boxes for her – reducing food waste, group volunteering and close to home.
Joan has been a regular volunteer in our 'Schools in the Kitchen' program since 2013 and now also volunteers in our kitchen garden at the Baguley farm.
While the Clayton South farm is a fair hop for Joan, she has known the Baguley family, who generously provide us with the land to grow food, all her life. Joan's father, Doug Williams, owned a florist shop in Oakleigh for over 40 years and bought flowers from Frank Baguley. In fact Joan (pictured here with Frank's son Les Baguley) recalls that her dad was one of the farm's first customers.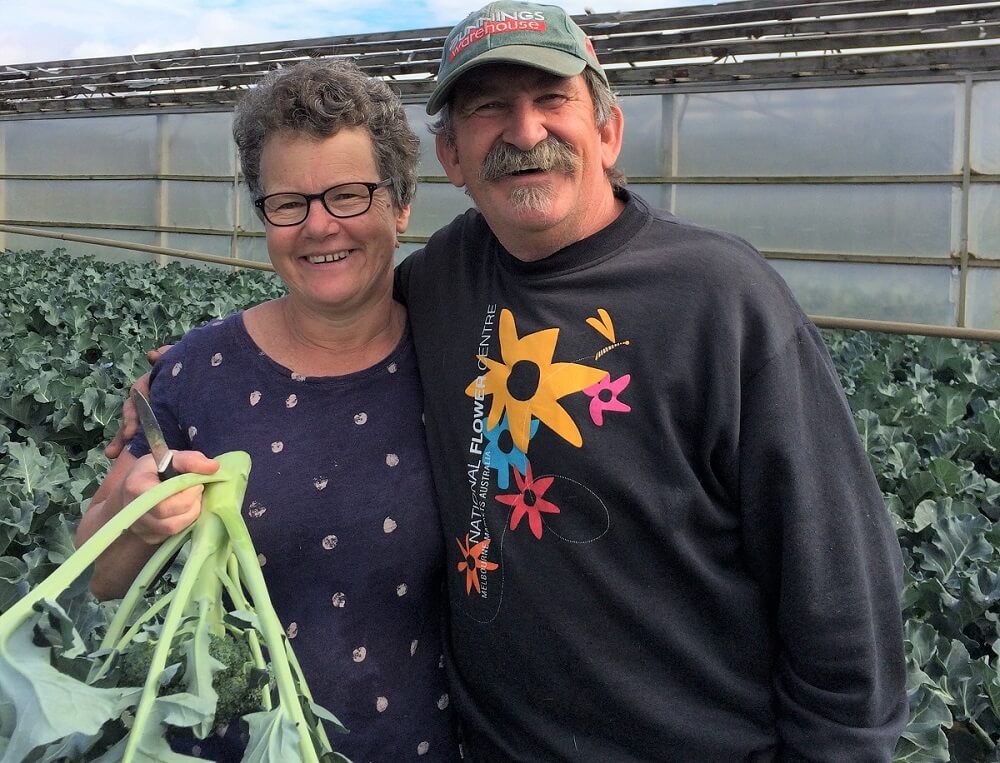 Earlier this month Joan participated in her 5th Upstream Challenge to raise funds for FareShare completing the testing 50km course. She found this year the toughest so far but she enjoyed it the most because she varied her training walks and discovered so many other walking trails around Melbourne in the weeks leading up to the big day.
For Joan, FareShare is a "no brainer" – it just makes sense. She enjoys putting in and seeing the results of her efforts while gaining from the social interaction.
Joan has made a significant contribution to FareShare wearing several hats over seven years.  We are very grateful for her generous support and hope it continues for a long time yet.