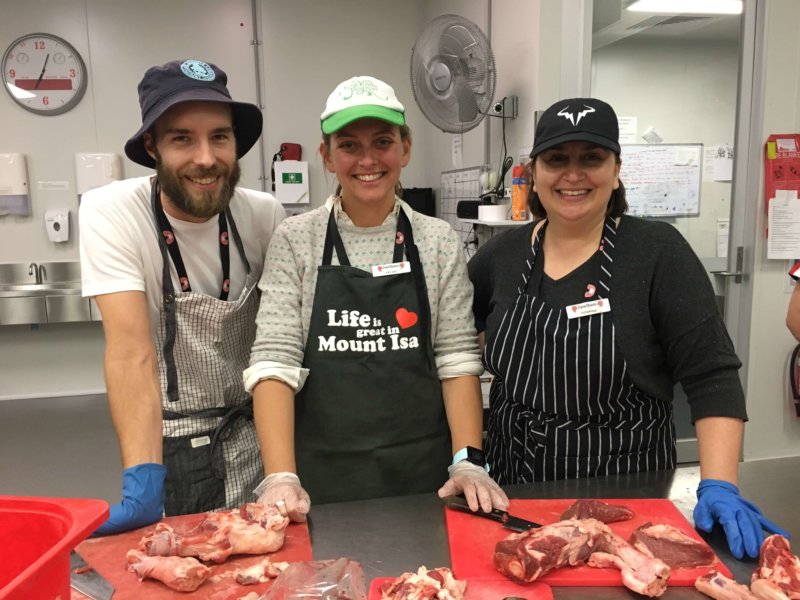 The FareShare kitchen feels like a natural fit for fire ecologist Helen.
She has been volunteering with us for more than three years after moving to Melbourne in 2012 to undertake a PhD investigating the ecological impact of the state's terrible bushfires of 1939, 1983 and 2009.
Dr Helen has recently started working at AECOM, a global firm where she is a senior ecologist – and no doubt resident 'fire expert'. Her current project is looking at the impact of solar farms.
Helen loves FareShare and especially her Tuesday evening crew. She enjoys being part of a cohesive team making a valuable contribution to society and she gets to meet people from all walks of life who she would not normally encounter. Her fellow volunteers include a civil celebrant, a winemaker, a banker and a Body Shop employee.
Helen's favourite task is making quiches and she doesn't mind boning meat either. In terms of her own skill development, she points to an improvement in her capsicum dicing over the past 3 years!
She reflects that FareShare is much busier than it used to be and notices that there have been process improvements along the way. Helen is keen to extend her volunteering activities and is considering helping out at a soup van.
She loves the public transport and the cultural depth of her adopted city, although she's not so fond of the changeable Melbourne weather.
We value Helen's contribution and thank her for her willingness to give time to FareShare to reduce food waste and cook nutritious meals for thousands of Victorians in need.