FareShare was turned upside down at the end of March when coronavirus restrictions prompted a dramatic change to our proud, volunteer-powered model.
At a time of unprecedented community hardship and an upswell in demand for meals, we had no choice but to suspend our 1,250 kitchen volunteers in Melbourne and Brisbane to minimise the risk of spreading the virus and protect our community.
Thankfully, with tremendous support from Woolworths, ALH Group and the Victorian Government, FareShare was able to switch to a smaller, skilled workforce overnight and reduce the number of people through the kitchens each week by 90 per cent.
"With millions of people losing work and income, many international students stranded without support, elderly, sick and vulnerable people disconnected from normal support networks, FareShare has had to scale up rapidly," said FareShare CEO Marcus Godinho.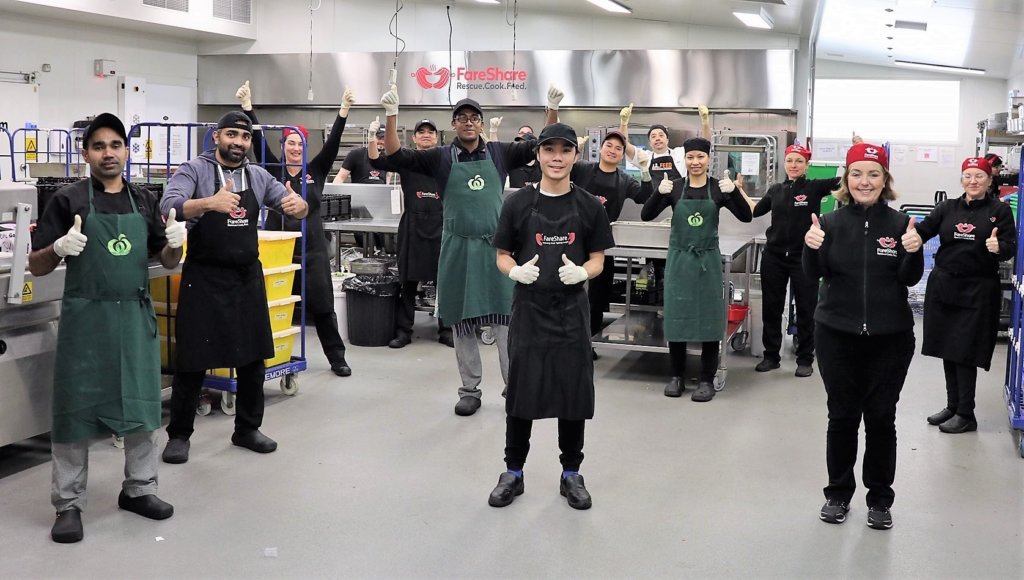 In May FareShare cooked a record 515,425 free meals– enough to feed a packed MCG five times over and more than twice our usual monthly impact.
Since the start of the outbreak, FareShare has cooked nearly 300,000 free meals for international students in Melbourne and Brisbane and another 50,000 for Indigenous communities in Queensland.
Substantial donations of fresh food from Woolworths have been critical ingredients to FareShare's ability to double production during the pandemic. Last month alone Woolworths donated 15,600 kg of meat and 35,200 kg of fresh vegetables to the FareShare kitchens. 
"At Woolworths we are incredibly proud of our partnership with FareShare and that during such challenging times for the community we have been able to work even closer together to help feed more vulnerable Australians in need," said Brad Banducci, CEO of Woolworths Group.
With the easing of restrictions fast-tracked in Queensland, our Brisbane volunteers are now back on deck while our Melbourne kitchen is still operating with temporary chefs.