FareShare has welcomed a new team of skilled kitchen staff to help get us through COVID-19 and scale up production at this critical time.
Following the mandatory closure of hotels around the country, 76 chefs from the ALH Group owned by Woolworths have been donated to work alongside FareShare chefs in Melbourne and Brisbane.
Two weeks ago, Dale Payne was working as a head chef at a Melbourne ALH hotel designing menus, using local produce, developing kitchen staff, and mentoring apprentices.
Today, Dale (pictured below) is working full-time in FareShare's Melbourne kitchen cooking meals for people in crisis.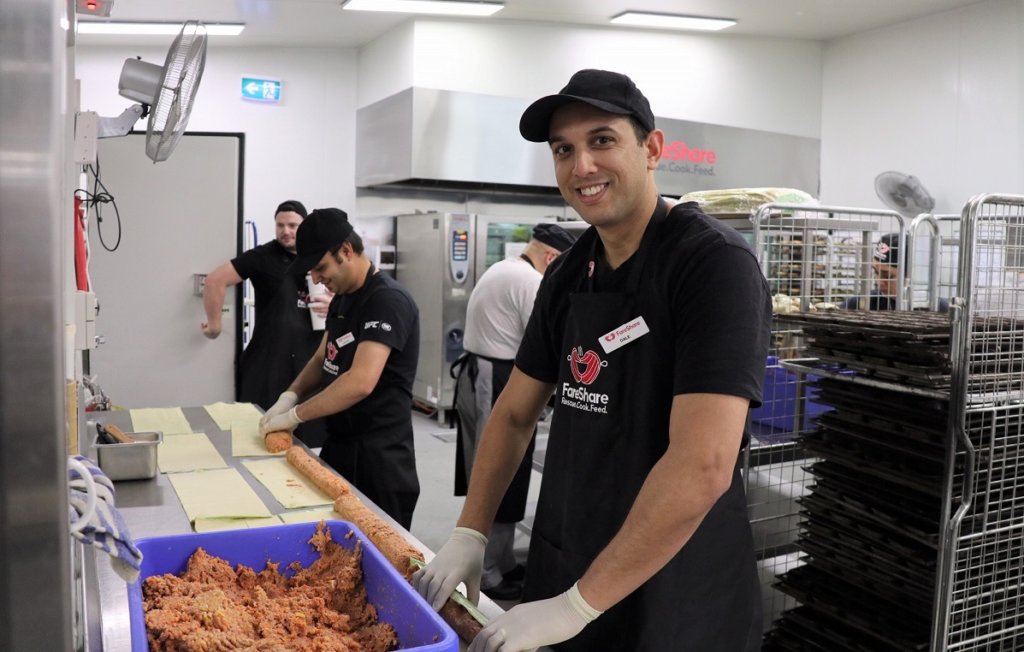 "I'm so grateful to be here doing what I have a passion for while everyone else is sitting at home," said Dale.
"The real reward is we are feeding people who are in need. We are cooking 7,000 chef-cooked meals a day – it's huge."
While Dale and most of the other ALH chefs now rostered to FareShare have senior roles in hotels, they have quickly adapted to the FareShare kitchen undertaking food preparation tasks.
"We all have to start somewhere," said Dale. "Food preparing is important. It's great to be working with other head chefs in the ALH Group – we are building a team and bouncing ideas around.
"We all know what to do and we're just getting on with it."
Crickette DerJeu, FareShare's Melbourne kitchen manager, said the new team had hit the ground running and are making an incredible difference to people doing it tough.
"They are professional, positive and demonstrating great kitchen skills," said Crickette. "We're so grateful to Woolworths and ALH for helping power our kitchens when nutritious meals have never been more important."