Italian chef Daniele Vischetti has been on an incredible culinary journey including stints at Noma, Michelin-starred restaurants in Milan, Melbourne's Vue de monde and now the FareShare kitchen.
He described his first shifts cooking free, nutritious meals for vulnerable Victorians as "absolutely amazing".
"It gave me a chance to do something different with my skills to help people in need," said Daniele.
Daniele started cooking at 16, taking up his first job at 17 in an alpine chalet. Next was a small restaurant in Milan as a pastry assistant before heading to Sardinia. A role as chef de partie at a Michelin-starred restaurant in Milan followed before a giant leap.
Daniele sent his resume to Copenhagen's Noma more in hope than expectation. "They accepted me! I was so super excited – it was a big jump. At the time Noma was the best restaurant in the world. For me it was a dream."
During a four-month internship, Daniele worked in the preparation kitchen. It was an exciting time foraging in the forest for ingredients including seeds, herbs and roots. He even collected ants.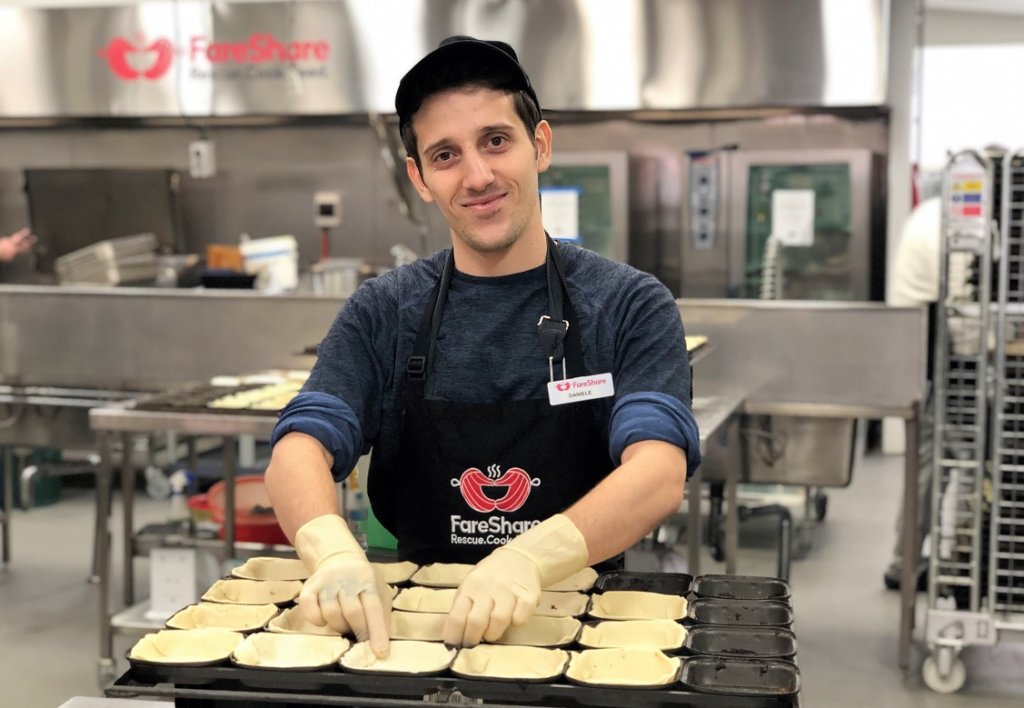 His next job brought him back to Milan in his first role as a sous chef, this time with at an eaterie specialising in truffles. Daniele says he barely left the kitchen for a year. "I put all of myself into that experience," he says.
After another stint in a Michelin-starred restaurant, he headed to Monte Carlo where he got his first experience cooking with Australian beef which helped sow the seeds of the next phase of his journey.
He arrived in Melbourne in 2019. Daniele dreamed again and approached Vue de monde. His luck continued and he was offered a job. "I was super, super happy," says Daniele, who spent 4 months at the celebrated restaurant before the pandemic shut down table dining.
Daniele was in charge of the larder section, preparing cold dishes such as smoked trout, marinated in beetroot, rolled with finger lime and served with tomato water and lemon aspen.
When offered the chance to work at FareShare funded by the state Government's Working For Victoria program, Daniele had no hesitation.
"I needed help and I am getting help by helping people," he says. "It's a very lucky situation. I've already learned from FareShare.
"I've learned to appreciate and use as much food as possible. Food waste is such a big thing in the modern world."
He says cooking 200 kilos of casserole at a time for people who really need it, also requires a different skill set.
"You have to be very organized to cook that amount of meals. When I finished my shift, I spoke to my Vue colleagues on the bus. We thought it was incredible how you can cook 200 kilos of meals with no loss of quality. We were seriously shocked by the amount. It's crazy. A lot of people could learn from this."
Daniele's not sure where the next step of his culinary journey will take him. He'd love to obtain a sponsored position in Australia. If not, he's dreaming of an overland journey back to Italy, recording all the different foods and cuisines he encounters along the way for a book.
"Noma was a dream. Vue was a dream. Perhaps this can be too," he says.