The Feed Appeal will announce a record 52 grants to community food charities across Australia next month after raising $1.5 million in 2020.
Co-founded by FareShare and News Corp Australia, the Feed Appeal was created to increase the capacity of frontline charities to rescue, store and distribute more food to people in need.
Thanks to the appeal, charities in every state and territory will be able to purchase items including refrigerated vehicles, a mobile kitchen, commercial fridges and freezers, machinery, food staples, and ovens.
Feed Appeal chief executive Katherine Gokavi-Whaley (pictured below with Father Bob Maguire) said the impact the grants have on communities was never more evident than during the coronavirus pandemic this year.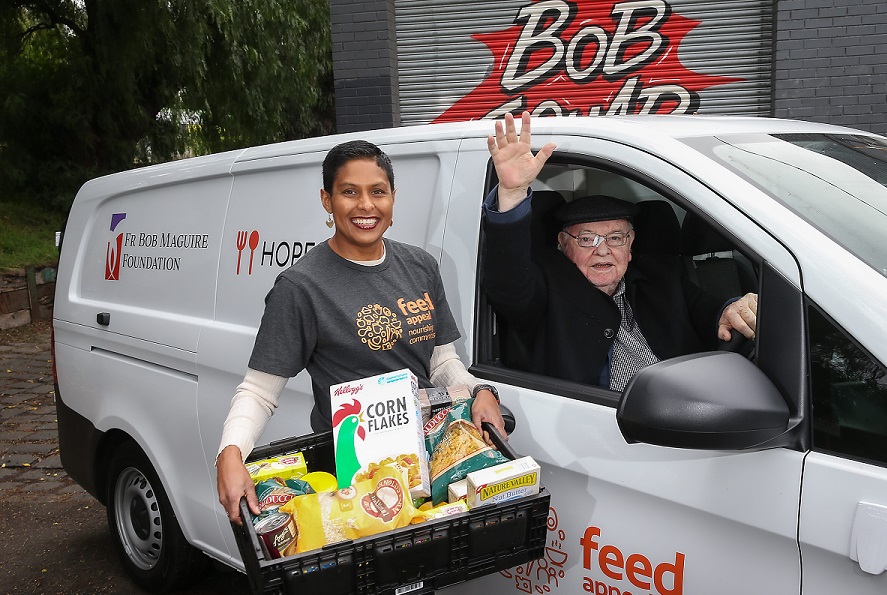 "Many charities have told us they would not have been able to continue operating without the Feed Appeal grants they received in previous years," she said.
Ms Gokavi-Whaley said seeing Melbourne's Father Bob Maguire Foundation turn itself into a mini food relief hub thanks to a refrigerated van was a case in point.
"No longer able to run its sit-down meal service in lockdown, Father Bob's has been able to use the van to co-ordinate the collection or delivery of 1300 hampers and 4000 FareShare meals a month to 11 different community charities."
The 2020 Feed Appeal ran from June to August with funds raised from community and corporate donations and $884,000 at Woolworths checkouts.
Philanthropic funding from Newman's Own Foundation enables 100 per cent of funds raised to be donated back to frontline charities. Grants will be announced in mid-October.
Since 2009, the Feed Appeal has raised more than $7.5 million.