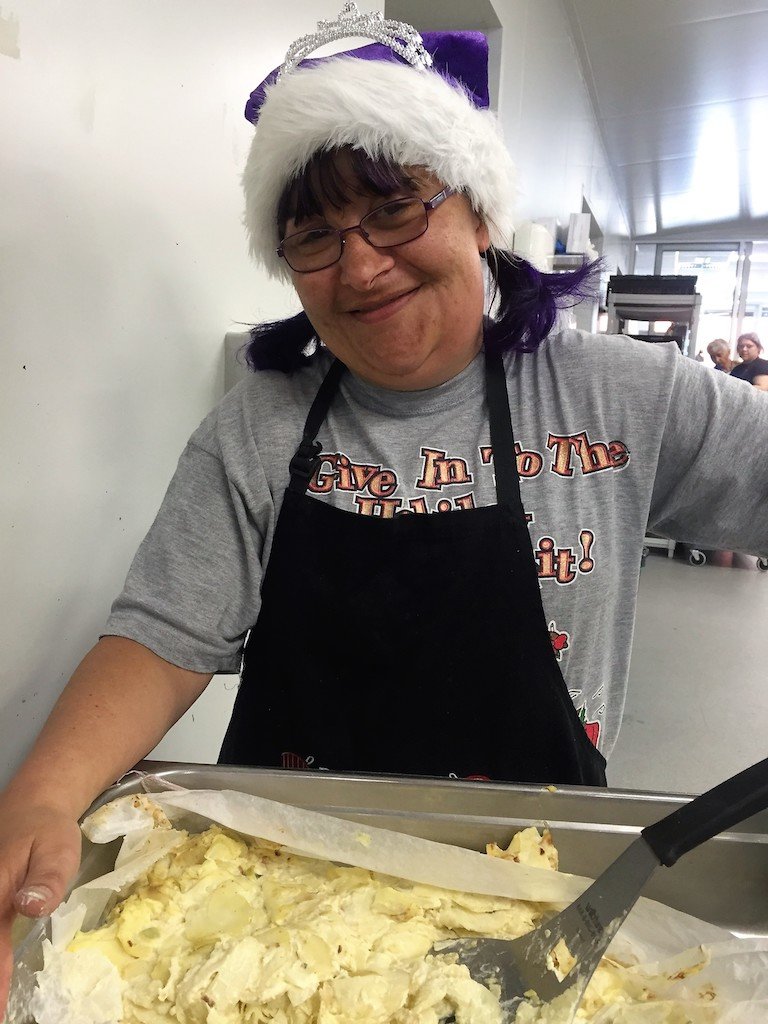 When single mum Tania was given a community-based order, she didn't imagine any good would come of it. But after undertaking her service in the FareShare kitchen things changed.
Now Tania has signed up as a regular volunteer with her sights set on reviving her career in hospitality after 15 years of unemployment.
"It's inspired me to get back into hospitality full-time," said Tania who began working shifts in the FareShare kitchen last April as part of an innovative collaboration between FareShare and the Department of Justice and Regulation.
"I was a bit scared at first but now I'm bouncing before I even get through the FareShare doors," said Tania. "The chefs are amazing."
Tania, who has experience waitressing and once worked at McDonald's organising kids' parties, hopes she can assist others on community-based orders at FareShare now that she has completed her 130 hours of service.
She fully understands how some families struggle to make ends meet. "I've fallen on hard times recently and had to use food banks so I know what it's like.
"I've packaged food at FareShare that I've actually eaten myself when I needed it at desperate times. I had no idea where it came from before."
Now Tania, is keen to give back and restart her career.
"I've loved the hospitality industry since I was a child. You have put the fire back in my belly to work with food again."
The feeling is mutual. FareShare kitchen manager Chris Mitchison said Tania was a fantastic asset to the kitchen. "Tania has been a pleasure to work with from day one. She's hard working and keen to learn. The perfect volunteer!"
Tania was one of dozens of people serving court or parole orders who has increased the number of meals available for the hungry by working in the FareShare Kitchen on Friday evenings and Saturday afternoons.  The program is being extended this year.