This year FareShare has adopted a very special goal this year – to boost the impact of EVERY FareShare meal on the person who receives it.
Our chefs and volunteers have been taking our meals to a new level. We are determined to cook not just enough meals to nourish people who have fallen on hard times, but to cook the best meal possible for every individual.
This means catering to different tastes and serving sizes, and making our meals LOOK as good as they taste. It means giving people meals they love and that make them feel respected and included.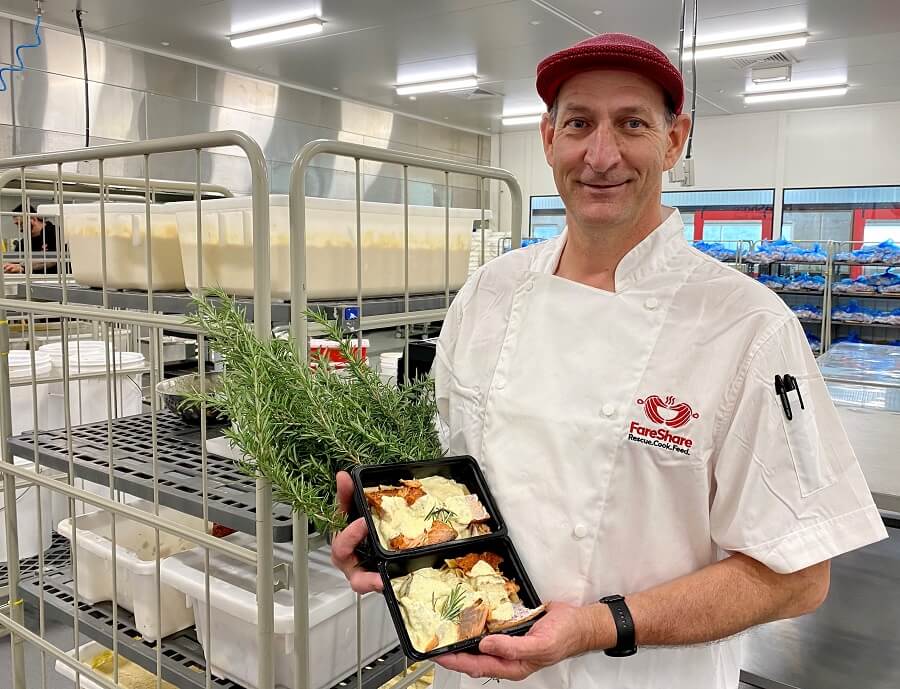 FareShare chef and Brisbane kitchen manager, James Fien, pictured here, says "We eat with our eyes. Our new single-serve meals have a greater amount of dignity for those struggling in our communities."
Feedback on FareShare's new single-serve range has been amazing from frontline charities and individuals alike.
The new single-serve meals went like hot cakes! The families loved the sweet and sour pork, and the ham and mushroom ravioli. We had one daughter pick up meals for her 90-year- old father who can't cook himself, and the single size is perfect for him.

Kevin Potter, of Countrywide Community Missions in Epping, Victoria.
FareShare's nutritious meals do more than fill empty bellies. They show that our chefs and volunteers care about the people they cook for. The new focus on presentation helps foster dignity and wellbeing.
"We love the new packaging for the individual meals," said Keren Greenwood of Vantage Point Church, Donvale. "It looks attractive and delicious.  Thank you for valuing our families who are struggling."