It was the best of times for our two FareShare chefs who recently embarked on a landmark chef swap. Emma headed north to her old stomping ground of Brisbane while Mal braved the cold down here in Melbourne. Here's what they had to say about their experience…
Comparing FareShare's Facilities
Mal got shown different facets of FareShare Melbourne, such as the Bagueley Farm kitchen garden, the scale of which he found 'mind-blowing', as well as van runs, our main warehouse in Derrimut, and of course our kitchen.
"It's a completely different landscape," Mal says. "Up in Queensland, we rely heavily on bulk food –a pallet of this and a pallet of that, so there's a lot of one thing at a time. Down here, you can see exactly what's in the warehouse, order it and they'll bring it. I'm really jealous of that."
Mal took a few photos of kitchen equipment he thinks could be of benefit up in Brisbane. But it was Emma who had even greater kitchen envy! She was in awe of the modern equipment in Brisbane, much of which is newer and bigger than Melbourne.
"I took a lot of videos," Emma says. "Like, they've got this great mini lifter that you put things on, and you scoop into it, and it lifts itself onto the trolley. And another machine that dispenses soup out of a big hose kind of thing. I came back full of ideas!"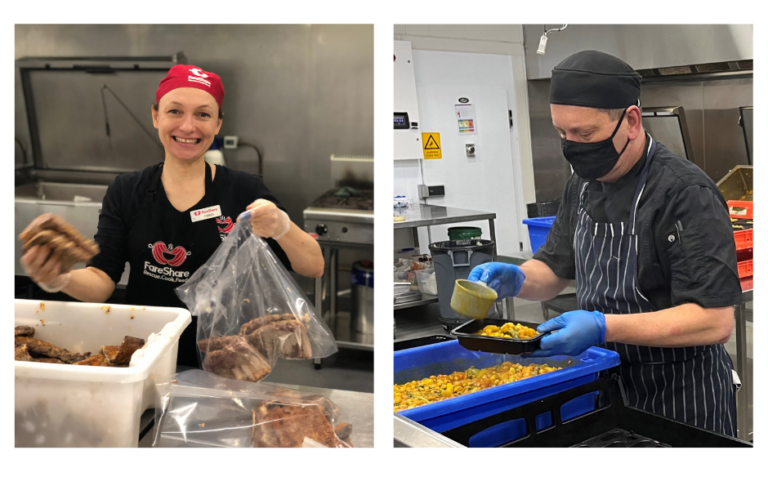 The passionate FareShare volunteers
Mal and Emma agree that the volunteers are amazing on both sites. "They have lots of lovely, passionate volunteers," Emma says. "I met one who volunteers there three times a week. He has this lovely apron that's a hybrid of, like, Dolly Parton and Bollywood. They have a lot of bright outfits up there, both the chefs and volunteers. They were all very cute."
Likewise, Mal had a ball talking to the regular volunteers and hearing their stories. "Some of them have been here so long, 10-15-20 years. And without them, we couldn't do what we do. Everyone's so passionate about the cause, where it's going. The school's volunteering program is a great initiative too."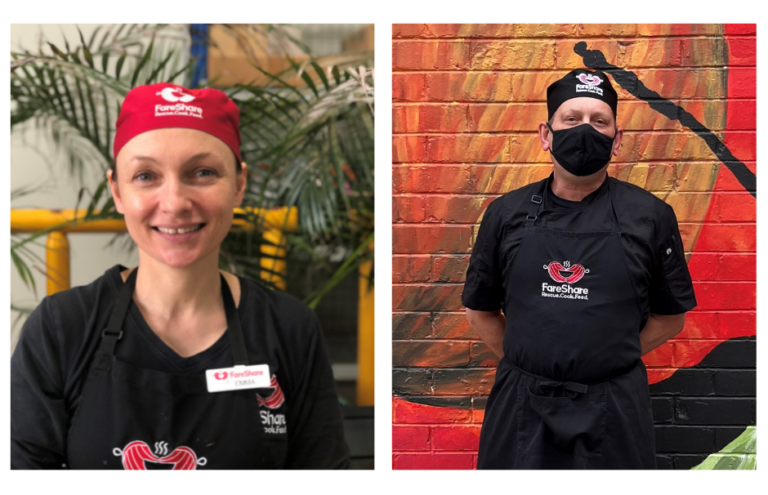 Enjoying the respective cities
Both chefs enjoyed the respective cities. For Emma, it was the perfect chance to return to a city she lived in for a couple years but hadn't been back to for a decade. "It was lovely and nostalgic. A lot of things were the same, like the tropical landscape, the vegetation and greenness of everything…I really like the tropics."
One aspect about Brisbane Emma had forgotten about were the hills. "I got a colleague to leave her bike for me to ride, and as we drove in, I was like: 'I forgot about the hills!'. You literally can't ride."
Mal really enjoyed his time too: "I love Melbourne. I have a couple relatives here, but I hadn't been back since before Covid so it was really good being able to. I love all the food options and the markets, especially Prahran Market. You just don't get the same sort of markets up there," he says.
"Another thing that's different is that everything's open late. In Brisbane, everything's closed at 8.30-9pm. You step out here and there are still people dining and walking around, everything's still buzzy. It's great."
Stay tuned to our blog for more chef swaps and stories like it, or find out how you can volunteer in Melbourne or volunteer in Brisbane here.