FareShare chefs and volunteers reached a critical milestone this week by cooking a quarter of a million nutritious meals for vulnerable Queenslanders.
Powered by local volunteers and supervised by experienced chefs, our new Brisbane kitchen provides vital food relief to some of the 400,0000 Queenslanders struggling to access nutritious food – half of them children.
People who have benefited to date include rough sleepers in Brisbane, flood-affected residents in Townsville and women fleeing domestic violence.
FareShare Queensland director Kellie Watson praised the fantastic response of local volunteers and the plentiful supply of surplus meat and vegetables supplied by Foodbank for making a difference to thousands of disadvantaged people.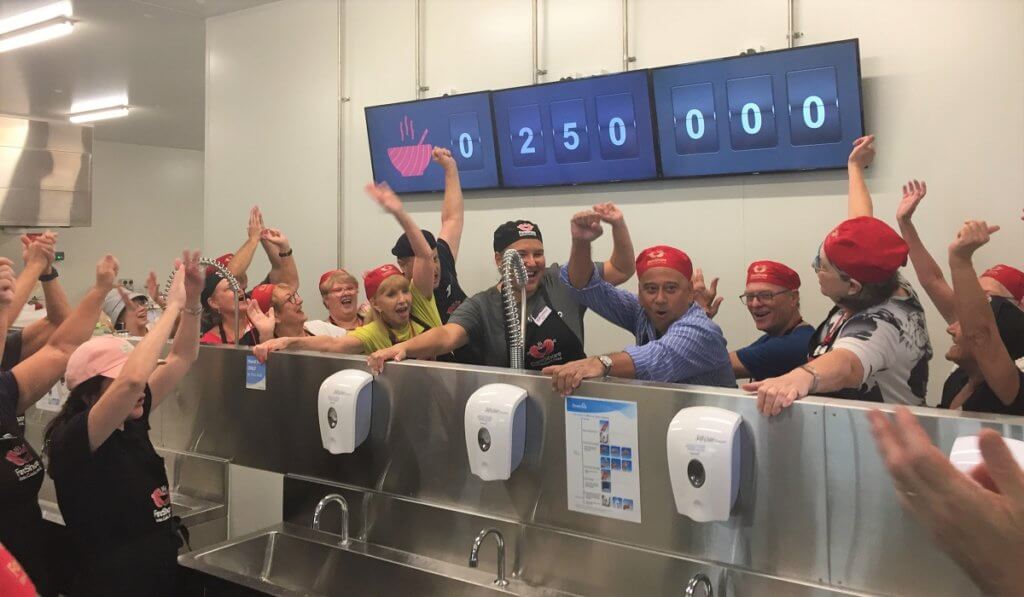 "The chefs have been working hard to make sure that the meals are not only really tasty but packed with protein and vegetables," said Ms Watson. "Thanks to quality, local ingredients from Foodbank, the support of nearly 400 volunteers and a state of the art kitchen, we hit the ground running."
The kitchen, the size of a basketball court, was opened by Queensland Premier Annastacia Palaszczuk in October 2018 and aims to cook one million meals in its first year.
Feedback to date highlights that ready-to-eat, cooked meals are really appreciated by those doing it tough. Comments collected at a free community lunch in Fortitude Valley included "I haven't had a roast in years", "by far the best mash I've ever had" and "seriously, how good!"
Cooking at scale requires the support of corporate groups who volunteer their time in the kitchen for team-building and giving back to the community.  We welcome inquiries from businesses and locals wanting to become regular volunteers.