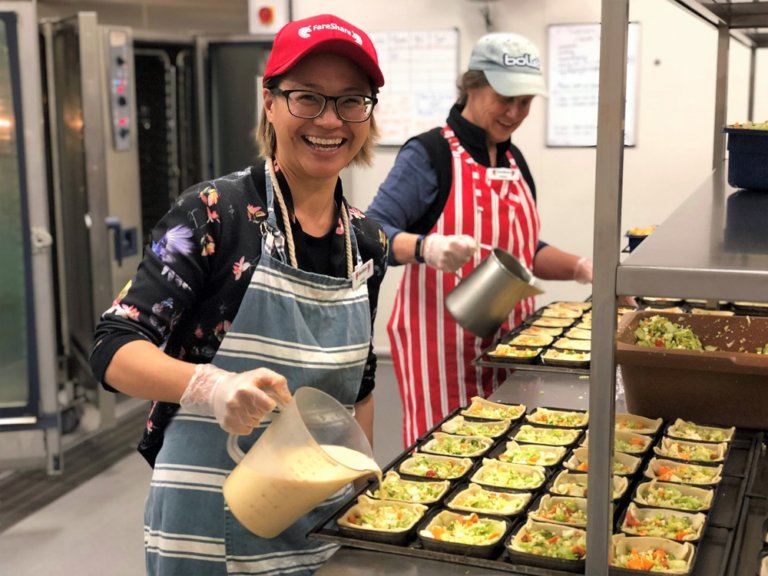 The title Volunteer of the Month hardly does justice to Anne who has rebuilt our website as well as acting as an evening kitchen volunteer.
Anne offered her expertise in digital marketing to FareShare after joining us in the kitchen. She and her partner Pete have run their own digital marketing agency Full Measure Digital since 2010. Recently, Anne decided to step back to look at different career options and explore opportunities in the not for profit sector. FareShare has been a very fortunate beneficiary!
Since May this year, Anne has donated literally hundreds of hours of skilled work to designing our new website. It's the first charity website she has worked on so it presented her with new challenges such as finding the right balance between community building and fundraising. Anne says our new website is a shared place – featuring wonderful photos of our volunteers, our food ingredients, our meals, and meal recipients. She believes a picture says a thousand words so finding and placing the right photos throughout the site has been a labour of love.
In Anne's view the best thing about FareShare is the people. She feels she is making a difference and that FareShare is a place where " things just get done". As a self-confessed foodie, she feels terrible for those less fortunate who are unable to access a good meal. She wants to be part of the solution to food insecurity and is pleased she can contribute to another person enjoying a nutritious meal. In addition to her time spent at FareShare, Anne also volunteers one day a week in the foodbank at ASRC.
Away from designing websites and eating out, Anne craves adventure – she is a keen cyclist, mountain biker, snowboarder, and recently went heli-skiing in New Zealand. She's even thinking about going on an avalanche course.
We're hugely grateful her passions coincide with our mission. Thank you Anne.